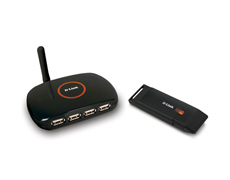 Oh heck yes! Security aside, I am all about wireless. Cable clutter makes me angry. So as the number of USB devices connected to my PC grows, the more Hulk-like I become. At last! Wireless USB FTW! Wireless USB technology enables networking of devices such as printers, scanners, game controllers, and digital cameras to their PC at speeds that exceed those of Bluetooth®. Connections up to 480mbits per second, to be exact.
yesterday, D-Link announced its DUB-9240, a wireless USB hub. The kit includes a Wireless USB Adapter and a 4-Port Wireless USB Hub.
The DUB-9240 Wireless USB Kit, DUB-2240 4-port Wireless USB hub, and DUB-1210 Wireless USB adapter are set to ship in Q4 this year. The DUB-9240 MSRP is $219.99.
I don't care what anybody says about wireless products at home, I like them, and I openely embrace wireless USB..although I was a little saddened to see the MSRP.
D-Link® Ultra-Wideband (UWB) Wireless USB Kit.