Think of me Thursday #bloghop #thursday
This morning I hit the snooze button one too many times.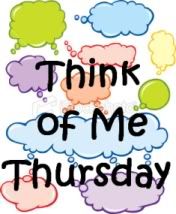 After waking up and realizing I would need to get myself and the boys together lightning speed I began the motions.
Then I saw it was raining and windy. So I checked the "weather app" on my phone. There were FIVE severe warnings posted for our area including the heavy rain, wind gusts up to 50 mph and a tornado watch to name some of them. So then I was hunting for Braeden's rain coat which while it fit him is indeed a size too small to be comfortable.
Then I grabbed the taekwondo bag-o-gear, the diaper bag, my purse, my lunch, my coffee and the book bag in my lowly two arms. I ran outside in the rain to put said items in the car only to come back inside and see Finnegan standing at the top of the steps, gated in and very angry that I did not take him out into the rain.
We all had our shoes on, our coats on and were ready for the short trek to day care. HA! Short…not so much, there was a back up in traffic due to the school bus accident at the intersection where I needed to turn. It appeared that there were not any children on the bus which was good news. The car who ran into the back of the bus did not look so hot.
After finally arriving at day care, getting everything/everyone inside and then running back outside to drive to work was a whirlwind. I would not have been surprised if I had seen one of the kids still in the car while driving to work. Fortunately, that was not the case.
Almost to work I see the power has gone out, the traffic lights are out and chaos is in full gear. Yay! I'm sitting, waiting, listening to weather reports of nearby flooding and how the weather will become more severe as the day progresses…
So then I think about what my brother would say. He would say "Christy, you need to thank the situation for testing your patience so you can learn to tolerate more and grow. You need to 'say thank you weather' for making me take things slower this morning so that I get to work safely."
Baby brother of mine, you're too wise for your age.
Week 6 of Think of Me Thursday!
1. Follow your hostesses, Mrs. Mama Dramaand Belly Charms
We will follow back, but leave us a comment so we know where to visit you!
2. Link to a post with the Think of Me Thursday button so your new visitors can say Hello!
3. Have fun, and Think of Us, and we'll be sure to Think of You!
Did you know there is a Thursday 13 Blog Hop?
You answer these 13 questions:
101. When was the last time you went to the doctor? Do you like your doctor? In May 2010, and yes I like her, she's sassy.
201. My back is itching, will you scratch it for me? For a stranger probably not, because if a stranger asked me to do that I would think it was very weird.
301. Do you have nice handwriting? Sometimes, it depends if I am rushed.
401. We are sending you to either New Zealand or Canada, which one do you choose? New Zealand, I've already been to Canada.
501. Do you sing in the shower? Sometimes
601. Have you ever been streaking? If so, how far did you streak and did anyone see you? Never! I'm far too modest.
701. How soon is too soon for Christmas decorations and music playing in the stores? I think it should wait until after Halloween, but it never does. I'm irked when it starts before October.
801. If you celebrated Halloween as a kid what was the costume you wore at 5? I think I was Jem the rock star cartoon girl.
901. How many cavities have you had in your life? Sadly, two.
1001. Berleen and Bud come to Arizona to visit Kimber. Who do you think will decide it's too hot here first? Who are these people!
1101. Who do you think will ask TT questions next week? I have no idea.
Read more: HarrietandFriends.com http://harrietandfriends.com/2010/09/the-most-powerful-blacklist-on-earth
Welcome to Twitter Hop Thursday, hosted by Simply Stacie, The King's Court IV, Little Yaya's, and Review Retreat!
Spread the word and add this MckLinky to your blog! Write your own post or copy and paste this one. Below the MckLinky box, you'll see "Want to be a part of this Blog Hop? Click here for instructions and code". Have fun Twitter-Hopping along!
We have selected a Twitterer of the Week from last week's entries and the lucky winner is YUMMommies!